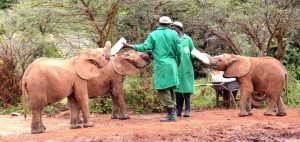 Our day in Nairobi started quite early in order to get to the David Sheldrick Wildlife Trust nice and early, as we were visiting the elephant orphanage. You need to get there well before the opening hour of 11.00am to 12.00pm to be in front of the rush to ensure a good spot around the observation area. The orphanage currently houses over 20 elephants aged less than 5 years old, which have been rescued from various situations in the wild, mainly because the mother has been killed for ivory. The elephants are fed and housed with a view to release back into the wild once they reach the age of 5. Each elephant has a handler that is responsible for its well being until it is accepted into a wild herd, generally in the Tsavo East National Park. It is too gorgeous to see these lovely little ones gulping down their bottles of formula before interacting with each other and the visitors. They are so curious and appear to love taking small branches of leaves being offered to them by visitors around the edge of their space. You are invited to sponsor an elephant at USD50.00 per year, sponsorship gives you access to various updates and special visiting rights.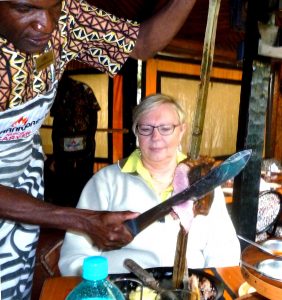 Watching all the elephants getting fed left us a little hungry, so the next stop was the Carnivore Restaurant, which specialises in meat – as the name would indicate. We were welcomed to our table and an explanation of the meal followed. A refreshing Dawa was offered (and accepted) – dawa being the Swahili word for medicine. Needless to say, this "medicine" included a dash of vodka, but the rest of the ingredients made for a very refreshing beverage indeed! Starter was a soup, after which a platter of salads and accompaniments was delivered to the table. Skewers of barbequed meats were brought to the table one at a time, including pork sausages, grilled rabbit, ostrich meatballs, pork spareribs, beef spareribs, chicken pieces, roast lamb, roast beef, leg of ham, roast turkey, and there was more, but by this stage we succumbed and lowered our flag to the table to indicate that we were well and truly FED! A selection of desserts was also offered and we managed to find a small spot to include some Crème Brulee…..
We waddled back to our vehicle and ventured off to take in the Giraffe Centre. An observation platform allows one to climb up to giraffe head height, where you are able to offer the rescued giraffes specially made pellets of feed, one at a time. Some of the more adventurous visitors would hold the pellets between their lips for the giraffe to remove, but being a little more selective, we offered them between our fingers or on the palms of our hands. Giraffes have an amazingly long tongue which they use to pull leaves off of the high branches they feed from, quite an interesting experience having it remove a pellet from your hand!
Next stop was the Karen Blixen Museum, which is housed in the home that Karen Blixen occupied during part of her time in Kenya, and used in the filming of her book "Out of Africa". Karen Blixen's life was lived in quite a colonial style and the museum reflects that very well. Our personal guide was very knowledgeable on Karen Blixen's life and the exhibits in the museum, giving little snippets of information at every turn.
Our final stop for the day was at Kazuri Beads, located very close to the Karen Blixen Museum in the Nairobi suburb of Karen. Kazuri Beads was set up in 1975 as a place to employ the disadvantaged and single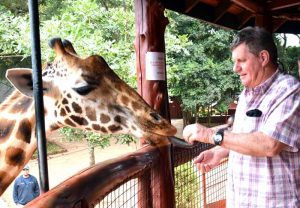 mothers in particular, as a means to support themselves financially. All beads are hand made from beginning to end using local clay, we spoke to many of lovely and happy women (and a few men), whilst making their beads, setting up the ovens to fire those already formed or painting and finishing them in to gorgeous necklaces, bracelets, belts and other works of art. There is also a small section where pottery is created, and as for the beads, this is all done by hand. Needless to say, a sizeable portion of my spending allowance was left behind on our departure.
We returned to our hotel having had a wonderful day of unique experiences, delicious food and having met so many amazing people, truly a day to remember!
Save
Save
Save
Save
Save
Save
Save
Save
Save
Save
Save
Save
Save
Save
Save
Save
Save
Save
Save
Save
Save
Save
Save
Save
Save
Save
Save
Save
Save
Save
Save
Save
Save
Save
Save
Save
Save
Save
Save
Save
Save
Save
Save
Save
Save
Save
Save
Save
Save
Save
Save
Save
Save
Save
Save
Save
Save
Save
Save
Save
Save