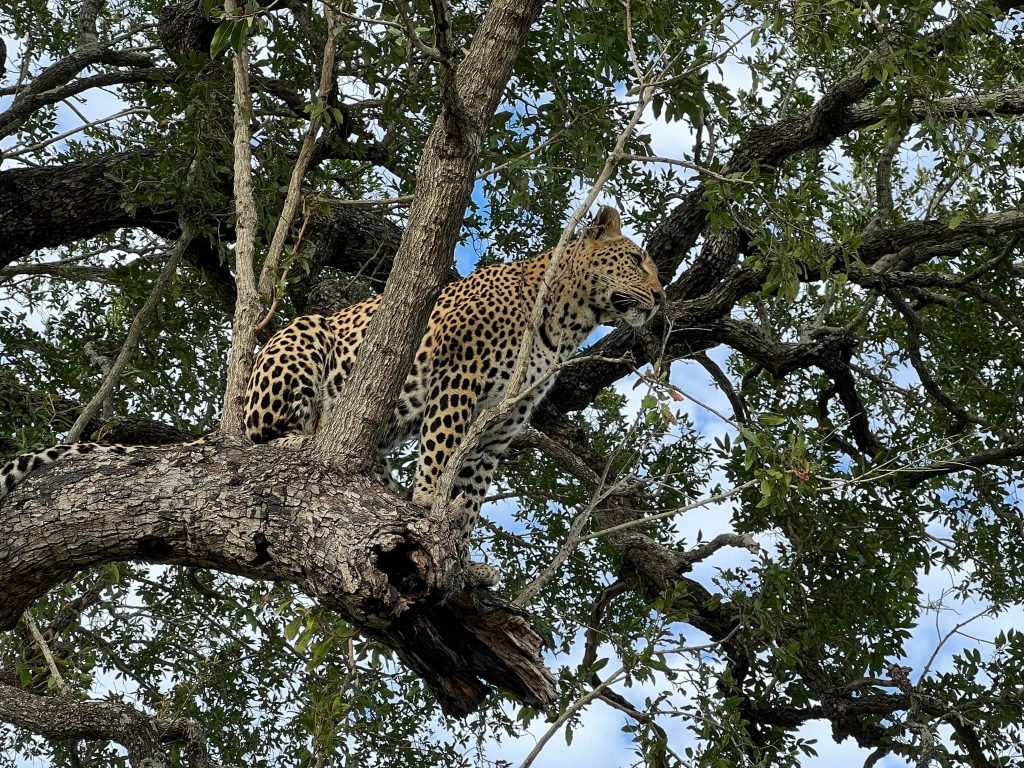 Having grown up in Africa and being able to choose to travel back as often as possible is such a privilege and I am delighted to share my joy of the wildlife experiences with you. Relax, go with the flow, and just absorb what nature chooses to show off to you.
Our most recent visit saw us spend a total of 8 nights in three different private lodges, in 3 different reserves adjacent to the Kruger National Park in South Africa and all within a 200km radius. Each reserve has a slightly different biodiversity and thus a slightly different game experience. Staying in private lodges certainly costs more, but the advantages far outweigh the costs, offering options that are not available when staying in the National Parks lodging.
Game viewing experiences are made special by having a limited number of guests in each safari vehicle, having your own tracker and/or driver on each vehicle, being able to experience safaris after sunset, and a strictly adhered to limit to the number of vehicles allowed at any one sighting. You are also able to go off road if the experience is warranted, not something one is able to do in the National Parks!
Meals are a treat, from early morning coffee, freshly made muffins and snacks before embarking on your drive, stopping for coffee and biscuits out in the bush and then returning to a sumptuous breakfast. After a little rest, or perhaps a guided bushwalk where you learn more about the small creatures and the bush flora, lunch is served – and oh, the choices! At around 3pm one is once again faced with a range of delicious culinary temptations, to keep you going on your afternoon drive. Stop out in the bush for sundowners, watch the sun going down with a cool beverage in your hand, and, in case you are feeling peckish again, another selection of snacks. Return to the vehicle for your night viewing drive, keeping on the lookout for nocturnal wildlife. On arrival back at the lodge, time for a quick refresh or head straight to the bar to compare notes with other guests on the day' s sightings. Finally, dinner is served and once again the choice is amazing. Tonight's dinner may be a braai in the outdoor boma, or a 5-course gourmet meal, possibly including game dishes such as warthog or kudu steaks, springbok carpaccio, slow cook springbok shanks. I feel hungry just thinking about it all again. Retreat to your beautifully appointed room for a well-earned sleep, before repeating it all again the following day.
Of course, the main event is the game viewing. No matter how many times I have been out game viewing, I find this one of the most exciting experiences in my life, and absolutely no two game drives are ever the same. Plains game such as zebra, wildebeest and impala along with giraffe, are usually to be seen on each drive. Depending on your locale, numerous other antelope may be featured:  from the tiny duikers, suni and dik-dik through to the regal kudu with its stunning horns and markings, eland, oryx, springbok and so many more. The big five will hopefully feature in your viewing: lion, cape buffalo, black and/or white rhino, elephant and leopard. My very favourite animal is the cheetah, so fast and sleek, totally mesmerising to watch. Of course, bird life abounds, and the sound of the dawn and dusk bird chorus simply adds to the experience. Some are stunningly beautiful, and some are downright ugly, but they all play an important role in the bush.
We were exposed to three extremely rare sighting on this trip, sighting an aardvark out on an evening meal dash – the first in all our years of game viewing. Our guide was beyond excited as he had not seen one for 5 years! We were also amazed to see honey badgers twice in one day, the first was chasing a snake but both disappeared into the bush, so we weren't sure of the outcome, the second sighting was several hours later and the two honey badgers once again disappeared from sight shortly after spotting them. Our first-ever  sighting of these fierce little animals. The third sighting was also a first for our guide, who has been doing this for 20 years, a vulture mating dance followed by the mating. Totally spectacular!
See some of the photos from the trip at http://www.facebook.com/TravelandCruise
We are currently planning our next escorted Funda Journey to Southern Africa for 2024. As we limit the number of guests to 10 people, be sure to register your interest if you would like to receive more information when available:
---
FUNDA JOURNEY 2024 REGISTRATION
Save
Save
Save
Save
Save
Save
Save
Save
Save
Save
Save
Save
Save
Save
Save
Save
Save
Save
Save
Save
Save
Save
Save
Save
Save
Save
Save
Save
Save
Save
Save
Save
Save
Save
Save
Save
Save
Save
Save
Save
Save
Save
Save
Save
Save
Save
Save
Save
Save
Save
Save
Save
Save
Save
Save
Save
Save
Save
Save
Save
Save
Save
Save
Save